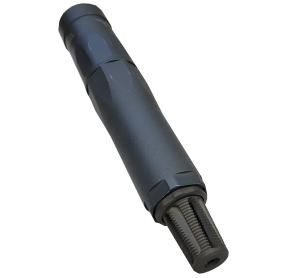 Our Latest offering in the light-weight suppressor market! The EVO line of suppressors offer lighter-weight, slimmer profile and better suppression than its predecessor. Integration of state of the art 3d printing techniques allows us to provide a replaceable, upgradable integrated tube and baffle module that is light-weight, quiet, and incredibly tough. There is no other way to produce the architecture the is the key to our EVO suppressor design. The EVO HUB line provide a mounting option utilizing the new HUB Adapter standard of 1.375 x 24tpi. They offer user-serviceability with no need for special tools. Comes shipped with our Universal suppressor clamp, & needed Hex wrenches. The EVO HUB series suppressors are compatible with our modular end cap devices. Options include a flat end cap, a flash hider, and a suppressor-mounted brake, with more options in the works!
Specifications:
Available Calibers: .223, .308, 9mm
Length: 8″
Outside Diameter: Max 1.65″
Weight: 11.2 oz.